28 Oct 2011, 1:23pm
Uncategorized
by
kate
Comments Off

on Porch Renovation 4
**4
This past weekend was glorious. The weather was a bit nippy in the shade when the wind puffed, but working in the sunshine was very comforting. While Dave mowed the lawn, I used my 4-season broom to sweep the fallen leaves and debris from the patios and naked porch floor. One reason why the porch cement floor has stayed so good since 1977 is because the mason did a great job of it. The other reason is because we've taken good care of it.
In the late afternoon, we thoroughly enjoyed the pork dinner served up by the Methodist Church congregation.
Sunday was full of friends and worship at our little church. Then, we scooted over to pick up John and Tyler. Our lunch at the Olive Garden was really fun and tasty. Our server was quite experienced and he made it fun for all of us. The boys were a little rough around the edges, as usual, but they ate their lunch with gusto.
We went into play with little CJ. He is 9 months old and has one, possibly two, teeth starting to come through. He is a happy little boy with two loving parents, not to mention grandparents.
Monday morning, the architect phoned to say the builder would begin excavation tomorrow. This afternoon, the digger was delivered. The weather forecast calls for possible snow on Thursday, so I hope the builder suddenly gets motivated and will finish the footer trenches in time for the mason to pour them and set properly.
The builder dug the footer trenches today. He arrived about 8:25 AM, while Dave was still here. Actually, Dave waited for him to come. They had a chat and each went on his way. Edie arrived at 8:40 AM, so she gave me a running commentary on how the builder was doing. He got all of the trenches and the center part dug out before he left at 3:15 PM. For most of the day, it was misting, making things rather wet.
Wednesday it was even wetter, as it had rained during the night and was lightly raining all day. The mason and his helpers sure made a muddy mess of our driveway, but, I'm sure, it will all wash away in time. They did manage to get the footer forms up, although there is water in the bottom of the trenches. They will have to pumped out before the cement is poured, unless, the water is gone before the cement truck gets here.
It is quite cold today, but there is no precipitation in the air. The builder and the architect are due to have a pow-wow at 1:00 pm to decide what to do about the rigid insulation against the foundation. Apparently, the old porch cement pad has a different type of footer than what the new pad is scheduled to have.
Today, Friday, seems very calm and quiet compared to yesterday's fevered accomplishments in the light rain. The yard is quite dug up and the driveway is muddy; however, in time, that too will be rectified. There is to be further discussions as to what type of insulation should be applied to the foundation of the old porch and new section; as well as to how best to keep a true line along the new room and the attached garage.
21 Oct 2011, 10:42am
Uncategorized
by
kate
Comments Off

on Porch Renovation 3
***3
Monday was a beautiful autumnal day.
Hark! Do you hear the pitty-pat of rain?
Hark! Do you hear the happy whistling of the builder?
Hark! Do you hear the digger scooping out footer trenches?
"no. No. No," I hear you say.
Alas. "Another wasted,perfect-for-building day.
Late afternoon, at 4:15, a large truck delivered a load of rebar supplies. Dare we hope for the action to begin?
Tuesday, October 18: Ditto Monday's weather, but, no one did anything all day.
Wednesday's weather was gorgeous. The kind of early Fall conditions you just know are numbered before the snow flies.
In the evening, we phoned the builder. He said he was keeping an eye on the weather! Really? He also mentioned that due to the previous week's rain, his first choice mason is backed up and can't get to us. Another mason was recommended and Jeff will check him out. No e-mail came this evening to say what happened with the second mason.
We had a call from ACE Swm and Leasure, saying that our Jacuzzi has arrived and when do we want it delivered? The beautiful Brazilian Teak hot tubwill have to wait awhile. Maybe we should just install it on our existing patio!
Ditto with Thursday's weather, although the temperature is a bit chillier.
I'm wondering if the rain situation is just a procrastination ploy. It seems to me that, since the specs call for 'stiff' cement and the builder said they'd probably be able to start setting the cement block after one day, why can't they dig and pour the footers. Place plastic over the top, in case there is heavy rain over-night, then, set the foundation blocks.
Well, here it is Friday. The weather is over-cast and chilly, but there isn't any rain. How silly of me to think they'd actually come, just because the rebars are on the grass. Does it matter if they're rusty?
It's probably a moot point to wonder if these blokes will work on a weekend, so, tomorrow we'll feast on pulled pork from one of the local churches and Sunday we'll pick up John and Tyler to have brunch at Olive Garden. Yum!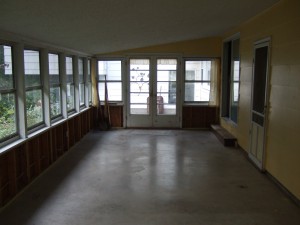 14 Oct 2011, 7:09am
Uncategorized
by
kate
Comments Off

on Porch Renovation II
Monday, October 10 was another summer day, inspite of the calendar indicating we should be experiencing 20-degrees cooler temperatures. Our builder arrived at 8:15 AM and staked out the foot-print of the new wing plus powder room. He left 40-minutes later, saying he needed to check on the dumpster pick-up and order lumber. I must admit, I was disappointed that he wasn't making hay while the weather was so favorable for out-door working.
Tuesday was a good weatherday, except the forecast predicted heavy rains. The builder and his mason decided to wait for more favorable weather. It did down-pour during the night, but Wednesday and Thursday were good for digging and pouring the foundation; however, the forecasted sprinkiles, that never materialized, prevented the men from showing up. I'm beginning to wonder if a snow flake is predicted, will construction halt?
Friday, October 14 dawned with light rain, so I don't expect any progress on our 3-season room. But wait, maybe calling it a 3-season room means that it will take 3 seasons to get it built.
11 Oct 2011, 4:57am
Uncategorized
by
kate
Comments Off

on Porch Renovation I.
Porch Renovation I
The glassed-in porch we added to the west side of our garage in 1977 is gone. It took the builder, Jeff Shear, only about 8 hours, over a two day period, to demolish it.
The old French doors were the first to go; the windows were next. He carefully took out the more than 24 panes of glass and screens out, stacking them in the big hopper.
"It's a lot easier," he explained, "to pick up big pieces of glass instead of little ones."
He disconnected the electricity to the porch and lit into the walls and aluminum window frames with a saw. When he was done with this stage, only a few uprights and the roof remained. The saw ripped into the roof and ceiling in 4'x4' chunks were soon added to the nearly full dumpster.
The old siding of the garage, which was the inside of the porch is still there.
"In case we get a rain storm," Jeff said, "the under-layment won't get soaked. We can use the old layment as part of the new wall."
The cement pad is in great shape, so he swept it and removed the chain-link fence that was attached to the porch corner. Next step is to carefully measure out the new pad and powder room that will extend the existing pad.
We felt this project was bigger than we could handle on our own, so we contracted the same architect that planned our "West Wing" 30 years ago, Roger Johanson. It took him 5 months, multiple visits and lots of billable hours to come up with our dream addition. His drawings and specs for the bid package are precise and complete as can humanly be. It will be up to the architect and the builder to co-operate in harmony with our wishes to bring this big under-taking to fruition. Demolition began on Tuesday, October 4, 2011 and should be complete by January 13, 20012.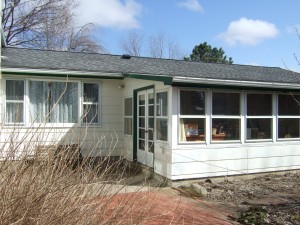 4 Oct 2011, 12:38pm
Uncategorized
by
kate
Comments Off

on Where's the Chicken?
Where's the Chicken?
Do you remember the elderly lady who, upon receiving her hamburger at the drive-through window, opened the bun and asked: Where's the beef?
We recently went into Taco Bell's and ordered their newest special: a flat bread chicken sandwich.
My first response was: Where's the chicken? There was little to none in the folded crease of the flat bread. Next to no lettuce or anything else I could identify.
Did they really think that dumping on lots of spicy, hot sauce would make up for lack of substance? I don't think so.
It was a rip-off, to be sure, and I'll not be frequenting Taco Bell any time soon.
3 Oct 2011, 10:00am
Uncategorized
by
kate
Comments Off

on Leah Young
07/17/2003 Wayne County STAR Newspaper
Cornucopia
by Kate Chamberlin
986-1267 E-mail: KATHRYNGC@JUNO.COM
Copyright © July, 2003 by Kate Chamberlin
Age
Satchel Paige posed the question: How old would you be if you didn't know how old you were?
The term "Aging" should be used to refer to the processes of "accruing maturity with the passage of time". The goal of geriatrics is not to promote senescence, but to maximize the
positive aspects of aging. In the words of the Gerontological Society of America, gerontology should be "adding life to years, not just more years to life."
With that in mind and another birthday looming on the horizon, I cant agree more. Okay, okay, so I'm blind. I'm still pushing the envelope of my life. I don't feel old, although I'm hobnobbing with twenty-some-things as we wait for our nursery school age children to come bursting through the door. I relish their exuberance of untarnished young adult lives and optimism.
I marvel at the speed with which pre-schoolers mimic, to perfection, the people around them and how it then evolves into their own unique brand of personality. Their fresh interpretation of ordinary events is astounding. I suspect they would consider me to be "old".
I enjoy learning from those who have accrued more maturity than I. I honor their wisdom, patience and quiet confidence. Leah Young, formerly of Newark, is one of my role models. She will be 101-years old on August 17. Her regal serenity with her infectious laugh and compassion is most admirable. I suspect she would consider me still just a spring chicken.
Much of the beauty, science, and law which we have today is due to the continued ability of talented people who pushed and developed their abilities despite the fact that they were 'senior citizens'.
Based on their lack of serious illness or trauma, and upon their physically active life, there are many elderly who are more fit and more functional then those who are "thirty﷓something".
With each day that passes; with each barrier over-come; and with each spiritual fire I sustain, I can attest to accruing maturity with the passage of time, yet I don't feel old. I suspect this is good, so, I've decided to joyfully celebrate each birthday and let others keep track of the count. On second thought, maybe you ought to let me know when I've reached 101!
…Fern said: The tears happen. Endure, grieve, and move on. The only person who is with us our entire life, is ourselves. Be ALIVE while you are alive.
–George Carlin
NOTE: Leah Young went into Our Lord's embrace on Thursday, September 22, 2011. She was with us for 109 years.
Godspeed, my friend. I love you and shall always cherish our friendship.