21 Nov 2011, 4:43pm
Uncategorized
by
kate
Comments Off

on Porch Renovation 7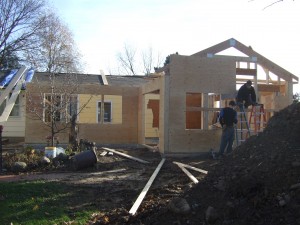 **7
The builder was here on Monday to do some more work on the cement stair removal. Tuesday, the trusses were delivered from Santelli Lumber and, on Wednesday, around 2:30 PM, the framers started there work.  The architect stopped in to use one of our blue prints to be sure the framers knew where to put things.
Thursday  afternoon, Dave and I went to watch Tyler swim for Pal-Mac in his first Modified Swim Meet.  He did well, as he finished both of his races and he wasn't last, either.  The framers started in on the wall structures while we were not home.
On Friday,  the framers were here in force and by the end of the day, the walls were up, as well as the west end gable.  The architect stopped in for a chat.  He said that having the gravel in the tub and powder rooms was good, even though it made a little more work for the plumber.  This way there won't be any sagging from the gravel settling under the soil pipe.