29 Feb 2012, 6:46am
Uncategorized
by
kate
Comments Off

on Porch Renovation 22
22
There are several "punch list" items to finish up, but, basically, our cottage is just about ready for the Certificate of Occupation. The exterior siding is on our property, but nothing has been done to install it or remove the big pile of dirt of foundation clay. The landscape folks we used many years ago to lay our brick patio and walks is now just a whole-sale nursery, so we're looking for another landscape outfit to re-do the mess from the construction of our beautiful cottage.
After the siding is on and the gardens and walkways are complete, I'll post a photo, but for now, our porch renovation blob notes will end. Regular observations and essays will begin next week. Stay tuned.
29 Feb 2012, 6:45am
Uncategorized
by
kate
Comments Off

on Porch Renovation 21, Valentines Quartet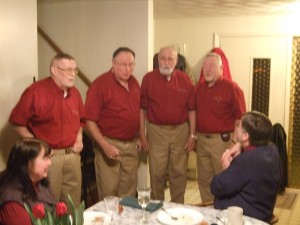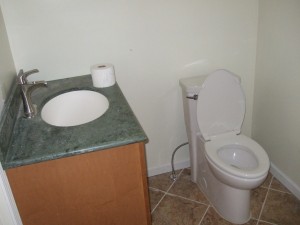 21Valentine Quartet
Saturday, Feb11, we provided B&B for our Bishop, who had come to officiate Fr. Ambuske's memorial service on Sunday, Feb12. The Hotchkiss's and Furrers joined us for a casual pizza dinner. The doorbell rang as we were eating and a quartet from the Chorus of the Genesee came in with a red rose and a Valentine card for each of the ladies. They not only sang two love songs, but, in honor of the Bishop, they sang several more songs, too. It was a lovely way to entertain some special folks. It was also fun to show off our new cottage and Jacuzzi.
Dave continues to paint. On Monday, Tuesday, Wednesday, the builder has been here trimming the window, hanging the powder room door, laying the tile for the hearth, and setting up the powder room vanity.
29 Feb 2012, 6:44am
Uncategorized
by
kate
Comments Off

on Porch Renovation 20, Jacuzzi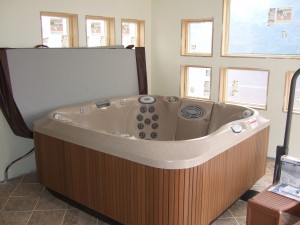 20 Jacuzzi
On Monday, February 6th, the builder was here for most of the day. Dave has been painting every evening and on Friday, he took the day off to supervise the Jacuzzi delivery and placement. The builder was also here and installed the 9' sliding door assembly. Now we're closed in and ready for whatever winter wants to throw our way, as, surely, the mild weather can't holdout much longer. In fact, the very next day, we had 4" of wet snow.
Dave and I had a nice visit with John and Tyler as we had brunch at T.G.I.F. Sunday afternoon. 13 month old CJ is now walking; albeit, a bit wobbly just yet.
5 Feb 2012, 3:59pm
Uncategorized
by
kate
Comments Off

on Porch Renovation 19, Tile Floor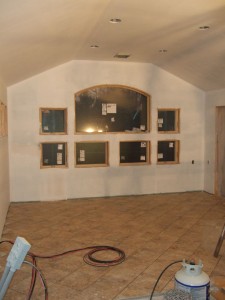 Once the drywall folks finished sanding, I set to work vaccuming and Dave started to paint with interior/exteriorwhite primer.  Edie helped us choose the off-white, semi-gloss paint for the walls.  It is called Lotus Flower and looks well with the wood floor, tile, and vanity top.  We'll be using exterior paint on the indoor walls to help prevent moisture problems.
On Thursday,Feb02, the builder installed the tile flooring at a 45-degree pattern that really looks good.  Friday found him back on the floor fitting all the edge pieces.  He was delighted to have an excuse to buy a wet-saw to cut the tiles  to the exact size.
I continue to vacuum and Dave continues to paint primer, as well as the color  coat.
Once the tile floor has had time to set securely, we can call the hot tup folks and set up a delivery date.