27 Jun 2012, 7:54am
Uncategorized
by
kate
Comments Off

on Chairs In My Life
08/19/1998 Wayne County STAR
8 Jun 2012, 4:56pm
Uncategorized
by
kate
Comments Off

on Backstage at GEVA Theater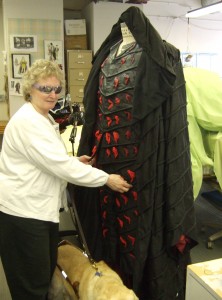 Backstage at GEVA
by Kate Chamberlin
   The three-story brick building on the corner of Woodbury Boulevard and Clinton Avenue was constructed in 1869 as an Armory.  It has gone through numerous metamorphosis, including a convention center where Teddy Roosevelt addressed the multitude, a hospital quarantine for the over-flow from the main hospital, and, since 1985, the home of GEVA Theater.  During the "Occupy Wall Street, in the Park" in 2011-12, it almost became a public restroom, because it is located across the street from Washington Square Park.  Fortunately, GEVA Theater prevailed.
The Visionaries Low-to-no vision Support group recently toured the building with Eric Evans, the Dramaturge for GEVA.  A dramaturge or dramaturg is a professional position within a theatre company that deals mainly with research and development of plays.  In Eric's case, he has a degree in History and also has the privilege of giving tours to school groups and others who make an appointment.
"The building is always evolving,"  Evans told the 9  members  of the Visionaries.  "We bought the building from the city for $1, but then we had to spend over $3,000,000 to renovate it for our productions."
There are three stages: a rehearsal stage, "Next" Stage, and the Main Stage.  The Next Stage is used for smaller productions, with a more intimate ambiance. The Main Stage is for larger productions and accommodates 550 patrons.
In the costume shop, Amanda explained how the costume for Hamlet's father's ghost was designed, developed, and worn.  The intricately adorned outfit of black and silver has intentional "holes" in it so the lighting will flash on the shiny red lining to simulate the fires of Hell.
With another costume, Amanda told us about a little girl who imagined that a  Heritage Tomato grew up to be her friend.  The costume entailed the blossom stage of the plant, the red fruit was added and the vines became arms and legs. As Amanda talked, I felt the various parts she mentioned.  I noted that the arms were rather long.  It was explained that the fabric would be pushed up the actor's arms to simulate the hairy stems of the tomato plant.
The simulated chain-mail used in their production of "Camelot" was actually made by knitting pearl stitches on one side from white seine floss  which was then dyed black, , shaped and melded with Mylar on the inside that would flash silver as the lights hit it, and a touch of silver spray paint on the outside  for an over-all metal effect.  It  was cooler to wear, light weight and a whole lot less expensive than purchasing heavy, chain-mail.
Although the large scenery panels are constructed off-site  and delivered in sections, the Prop Shop is a handyman's dream with all sorts of saws, routers, lathes, and assorted other tools to help the audience enter into the world the play portrays.  Many of these props and numerous costumes are stored in their "archive" area.
It is better than Grandma's attic, because all the canes are in one location, the hats in another, and so on for what seems like miles.  Each item is carefully labeled with the name of the item, the production and date it was used and even the actor who used it.
After a production ends its run, props and costumes go through their own triage:  put it in the archive/museum, reuse with possible renovations, or trash it.  In as much as GEVA Theater is a  union house, they may hire only members of the actor's union, however, along with a certain number of union actors, they may hire local, non-union members.  GEVA  has an "open audition" policy, where folks audition and their name is put on a list for when that type of character is needed.  They also run a children's program for aspiring wanna-bees.
Once a month, GEVA hires sign language interpreters so that deaf folks can also enjoy the productions  that is running at the time.
Of particular interest to our group, was the audio description of each matinee production on the third Sunday of the month.  Lisa Helen Hoffman began this service several years ago so the blind and visually impaired patrons could enjoy GEVA's efforts.  The patron wears a head-set and a hired narrator up in the booth will read the playbill, describe the scenery, and then, in-between the character's dialogues, describe the action on stage.
Our 2-hour tour was over much too quickly, however, it made us all want to come back to experience a play at the GEVA Theater.
NOTE:  GEVA Theatre Center, Ground Floor Lobby, 75 Woodbury Blvd., Rochester, NY 14607; Box Office Contact: Phone: (585) 232-GEVA (4382); Box Office Email: boxoffice@gevatheatre.org;  Group Sales: (585) 232-1366, ext 3057.
2 Jun 2012, 3:45pm
Uncategorized
by
kate
Comments Off

on Here, Piggy, Piggy
Here, Piggy, Piggy.
By Kate Chamberlin
I like barbecued pulled pork and bacon as much as the next person.  I even understand the concept of "from farm to table".  I'm just not so comfortable with meeting my meal before hand.
Our son and his wife recently feted their eldest daughter with a pig roast for being graduated from Penn State University, Behrend College of Communications.  Truly a wonderful accomplishment and worthy of a  party. It also coincided with the Memorial Day weekend.  Of course, preparations for such a large event had to start days, even weeks,  ahead of time.
Invitations were sent out primarily via FaceBook, word of mouth around town and their church, with a few personal telephone calls.  The borrowed tables and  chairs were promised, a bounce house for the children and other assorted yard games were planned, a port-a-potty rented, salads, casseroles, sauerkraut, and baked beans were made, and the piggy-on-the-hoof purchased.
Friday afternoon, the squealing piggy was brought home and made comfortable for his last day on-the-hoof.  He was slaughtered Saturday afternoon, dressed and put on the spit very early Sunday morning to be ready at 3:00 PM as dinner. The reports I heard about the pig's demise were upsetting and I regret that some of the younger children (ages 9-14) were there when the pig was shot and butchered.  However, children brought up on a farm would be well versed in the life cycle of farm animals raised for our food.  As an elementary teacher, I tell myself that it was a good "life lesson".  I'm not sorry to have missed that experience, though.  Our daughter-in-law's philosophy is to not name the animal.  It is always just called "Dinner". However, it soon circulated that "Henry" was "Dinner".
By the time my husband and I arrived, the pig was well past caring.  As we stood talking at the spit pit, our son noticed the line of clouds and said he didn't like the looks of it.  Within 30-minutes, the clouds opened up with huge, cold raindrops.  Fortunately, there was a tent, the garage, and the house in which we took refuge.  The storm didn't last for long, but there were loud cracks of thunder and strong winds that sent our grandchildren's pup tents sailing.  The children and numerous dogs raced after the flapping tents amid much laughing, barking, and slipping on the wet grass.  It made for lots of memorable fun for everyone.   We needed to go check in to our Comfort Suite Inn and returned to find our son pulling well cooked chunks of pork off the bone.  I touched the pig's nose and thanked him for his sacrifice.  Folks were piling their plates with steaming pulled pork and other fabulous foods.  There was a canoe filled with ice to keep the sodas, bottled water, wine, and keg cold. The children enjoyed sticking their hands into the cold water and splashing each other, but it was a unique way of self-serving the beverages.
Instead of going home on Sunday afternoon with our daughter,  our two grandsons opted to stay at the party with us. We left the party around 9:00 PM to go soak in the Inn's hot tub and swim in the pool.  When we were in our pajamas, we watched "Myth Busters" in our room, and fell asleep tired, clean, and happy.
Monday morning we ate at the Inn's free breakfast bar and headed home.  We had lunch at Burger King before dropping the boys at their home.  It was a quick trip, but well worth the time and effort.  What a wonderful tribute to our new college graduate and Memorial/Decoration Day, 2012.