19 Nov 2012, 9:34am
Uncategorized
by
kate
Comments Off

on Ordination of Ed Ihde
Observation by Kate Chamberlin
This was the day the Lord had made for the Ordination of Edward Herbert Ihde To the Sacred Order of Priests, November 17, 20212 in the Anglican Church of St. Nicholas, W. Seneca, NY.
The mid-November day was Blessed with bright sunshine, clear blue sky, and mild temperatures. St. Nicholas' spire rose proudly to welcome parishioners, families, friends, and clergy to witness this auspicious occasion.
The processional was resplendent for its music, colors, and grandeur. All the participants were wearing their finest vestments; from the Acolyte Cameron Jones in red, Crucifer Ethan Ihde in black, candidate Ed Ihde in white, and our Bishop in his gold and red miter carrying his unique crosier.
The pungent, burnt incense from the Thurifer Sheldon Colleymore added to the ambiance of holiness and reverence throughout the service. Shades of the former Roman Catholic parishioners of St. Nicholas were in evidence in the tall, vaulted ceiling, numerous pastel stained-glass windows and large cross with our crucified Christ on it. As you sat in the well-used pews, there was a feeling of roots, continuity, and peace.
The entire service was printed in a special booklet for everyone to follow along. While the read and spoken words were meaningful and informative on an intellectual level, it was the music that reached into your marrow, reaching a truly spiritual level and sending the praise, prayers, and supplications heavenward.
The trumpet, clarinet, and flute accompanying the choir, directed by Organist and choir master Don Bliss, added a depth and emotion to the many hymns, refrains, and responses.
Following the service that ordained Fr. Ed and fed our souls, congratulations, and a photo opportunity, we went down stairs to sate our Anglican appetites, share more congratulations, hugs, and promises to stay in touch
Congratulations to Fr. Ed Ihde and his wife, Barb (whose name tag already said "Barb Ihde, Priest's wife).
8 Nov 2012, 8:20am
Uncategorized
by
kate
Comments Off

on Guide Dog Chronicles: Application Denied
Guide Dog Chronicles: Application Denied By GEB
By Kate Chamberlin
Journal Entry: Thursday, November 8, 2012
` My dream – My new status as an empty nester will enable me to travel more and volunteer my time and experience in ways never before possible. A well-trained guide dog would enable me to hold my head up high and step out with confidence, not to mention the positive reflection on the guide dog movement and enhanced perception the public would have of a senior citizen who just happens to have a disability
` My Reality – Guiding Eyes for the Blind has denied my application for a replacement guide dog.
` My Reaction – GEB issued my first guide dog to me in 1989. The only thing that has change with my situation is that I'm older. I never did have a "dedicated" route; I've always had volunteer positions with a very few brief part-time, low paying positions; I've never used public transportation except during training; I've raised three children and two granchildren, taken good care of a variety of cats, gerbils, and dogs, not to mention the same husband for 42 years.
` My Options – Use the long, white cane; apply to another guide dog training center; once I find a rocking chair, to sit! Stay!
` The Lesson(s) Learned – Don't become middle-aged; don't retire or otherwise become unemployed; and don't put your trust in an impersonal committee that can pull your much needed aid, support, and companion out from under you at a time you really need it.
` The Form E-mail received –
From: Bev Klayman
To: "kathryngc@juno.com"
Date: Tue, 6 Nov 2012 15:21:05 -0500
Subject: Your application to Guiding Eyes for the Blind
November 6, 2012
Dear Kathryn,
I am writing to inform you that, after careful review of your file, our Admissions Committee has denied your application for a guide dog.
The committee does not feel you do enough independent walking to benefit sufficiently from a dog for the amount of effort required of you in training with
and caring for the dog, or be able to keep a young guide dog active and working safely for you.
I am sorry that we cannot be of service to you, Kathryn.
However, our best wishes go with you.
Sincerely,
Bev Klayman
Manager of Admissions Services
Guiding Eyes for the Blind
Ph. 1-800-942-0149
914-243-2222 (direct)
Fax: 914-243-2232
5 Nov 2012, 6:42pm
Uncategorized
by
kate
Comments Off

on New Anthology features Local Authors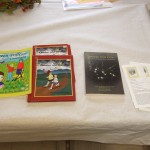 New Anthology Features Local Authors
Wayne Writers Guild invites you to celebrate the 10th anniversary of their founding with a Public Reading and Signing of their fifth book "Voices from John's
Back Room", from 2 pm – 4 pm in the Palmyra Town Hall dining room (near the Town Clerks office).
The book features contributions from Julie Blue, Kate Chamberlin, L. John Cieslinski, Richard Shade Gardner, Beth Hoad, Jean LaMark, C. A. Martin, Cindy
Matteson, Kc Meyer, William Preston, Renate Schuett and Sally Valentine Steinmiller.
This slim volume encompasses multiple genres on multiple topics and will enlighten, inform, and inspire those who venture between its pages.
What does a young mother think when she puts her small daughter to bed each night?
What is it like to trust your life to a dog after your eyesight is taken away in your prime?
Have you ever considered stones, rescued a pair of sparrows from a woodstove or prepared a wild turkey for Thanksgiving dinner?
How about a fast-paced drive on I-4 or a sleepless night spent pondering unanswerable questions; talked to the moon one-on-one or sought advice about roses?
For the sake of family history, have you ever thought to write about the simpler times in your past or racing your Chevy Impala against a Mercedes during
rush hour in Kansas City?
Or if you've ever wondered where words go after they're spoken, you can find the answers to these and other questions on Saturday, November 3 from 2:00-4:00PM
at the Palmyra Town Hall.  Refreshments will be served and admission is free.
Details are available at Books, Etc. in Macedon or by calling (315) 597-9658 or (315) 926-5738.