21 Jun 2013, 5:13pm
Uncategorized
by
kate
Comments Off

on Quilt Code at DAR
Quilt Code at DAR
Members and guests of the Col. Wm. Prescott Chapter NSDAR sat in rapt attention as Susan Howard presented "Hidden In Plain View; The Secret Story of Slave Quilts and the Underground Railroad" at 1:00 PM on Wednesday, June 19, at the Chapter House, 119 High Street, Newark, NY.
" This area of Wayne County has so many rich and varied historic events to be proud of,"  Susan Howard said.  "One of those local events is being part of the underground railroad. The "hidden In Plain View" or "The Quilt Code" is the ingenious method the slaves used to aid each other in locating safe places in the North.   They  look for the special quilt innocently airing on an underground  station's back porch."
Susan Howard, a retired 4th Grade teacher from the Canandaigua School System, has always had an interest in history, especially, local history.  She read a book about quilts that piqued her curiosity.  The book told of the different methods of quilting and mentioned the "quilt code".  She delved into the topic, talked with many other people, and now shares her new found knowledge to expose the untold story.
Information about the Log Cabin pattern's yellow center square passed orally from slave to slave, from plantation to plantation during religious meetings and clandestine meetings in the dark of night.  Great care had to be taken to only share the code with like-minded slaves, as there were some that preferred to relay any escape plans to the plantation owner.
Although Howard is not a quilter, she has a Sampler Quilt of several coded squares pieced by Anne Johnson of Canandaigua, NY, to display as she  orally stitches the pieces of the secret story of slave quilts and the underground railroad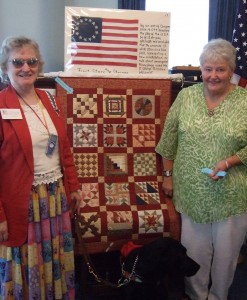 21 Jun 2013, 5:10pm
Uncategorized
by
kate
Comments Off

on DAR Installs new officers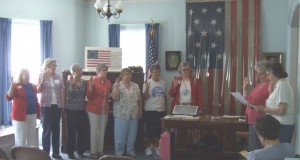 DAR Installs New Officers
The Col. Wm. Prescott Chapter NSDAR installed the following officers on june 19th:
Chaplin Jane Culver administered the oath of office to the following members for the 2013-2016 term:
Regent – Andrea Felker, 1st Vice-Regent – Edith (Edie) Farrington, 2nd Vice-Regent – Patricia (Pat) Petty, Chaplin – Jane Culver, Recording Secretary – Kathryn (Kate) Chamberlin, Treasurer – Margaret (Peg) Cohen, Corresponding/sunshine – Anne Hotchkiss, Registrar – Joyce Johns, Historian – Sylvia Harding, and Librarian – Catherine (Cathie) Blackwell.
The Col. Wm. Prescott Chapter was organized on january 31, 1917. It is named in honor of Col. Wm. Prescott (1726-1795) for his valor during the American Revolution and Miss Clara Prescott, a founding member and the first Vice-Regent of our chapter.
in 1774, at the age of 49, Prescott was appointed to command a regiment of Minute Men. In June, 1775 at the Battle of Bunker Hill, the ammunition was nearly exhausted, so, Prescott, reputedly, instructed his men that they should not shoot until they "see the whites of their eyes."
Our chapter house and grounds, 119 high street, newark, ny., were Willed by charter members Harriet (d.1949) and Anna miller(d.1952), if maintained for 15 years before being Deeded to the chapter.
Inquiries about the DAR are always welcome. For more information, please contact Regent Mrs. Andrea Felker, 1-315-594-1390, hafelker@gmail.com or Registrar Mrs. Joyce Johns, 1-315-594-2007, jjohns268@rochester.rr.com.