19 Aug 2013, 4:45pm
Uncategorized
by
kate
Comments Off

on Anatomy of an Anthology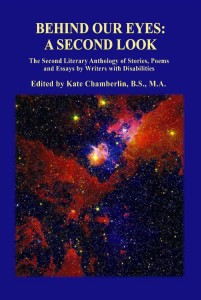 Anatomy of an Anthology
By Kate Chamberlin
Editor's Duties
-be the contact person for the publisher
-organize the submissions sent by the Submissions Chairman
-keep the committee up-to-date on each step–i.e. Distribute rough draft of Introduction, toc, advertising blurbs, media releases, etc, as .rtf or .doc(not .pdf).
-initiate dialogue with the publisher to add or delete pieces to stay within the number of pages she/he recommends to enable the anthology to be all in 14pt, enabling free matter for the blind to be used.
-Send edited pieces to contributor for their approval or to make their own revisions or withdraw the piece.
-submit complete manuscript to the publisher
Committee's Duties
-assign a Submissions Secretary to receive the e-mail submissions; return any for insufficient information (short bio, full contact information, piece being submitted – within word count, correct format); send to Editor.
-as Editor distributes each step of the product's progress, respond via e-mail with constructive suggestions as to copy edit, size/length, appropriateness for this anthology.
-committee needs to decide if submissions will be re-prints from Magnets and Ladders   e-mag only or open the submissions to other groups, which groups?
-Decide which genres if not all stories, poems, memoirs, and essays.
-assign two or three members to monitor the e-book and print book sales and royalty deposits.
-submission guidelines for a literary anthology should be Indent paragraphs, no blank lines, enclose dialogue in quotes; spell check piece before submitting, stay within the recommended word count;  full name and contact information, short bio within recommended word count.
-Information, suggestions, brain storming ideas, etc, are intended for internal committee use and it would be unprofessional to speak to outsiders about internal discussions.
Publisher's Duties
-keep editor's contact information handy
-let editor know exactly how much or how little you will be doing copy editing, internal layout, cover design, and distribution venues.
-be very clear how many pages you want in order to keep 14pt for front matter, toc, contents, and bios.
-be sure editor and committee members can access .pdf or the format you will use to send proofs,  i.e.  .rtf is best.
-send a word description with any .jpg attachments.
-detail your ordering protocol and time-line for book release;  allow organization/editor time to pre-release information to build buzz for ordering.
Contributor's Duties
-submission guidelines for a literary anthology should be Indent paragraphs, no blank lines, enclose dialogue in quotes; spell check piece before submitting, stay within the recommended word count;  include full name, land address, land and/or cell phone, e-mail address, short bio within recommended word count;  spell check every thing again before submitting.
-If you change anything in your contact information, let the editor know your new information or you may not get the opportunity to pre-view your edited piece before publishing.
Behind Our Eyes:  A Second Look
Released June, 2013
Kate Chamberlin, Editor
kathryngc@juno.com
Patricia Gott, Publisher
PO Box 43,
Norway, ME 04268
pgott@gwi.net
Set-up for BOE2Anthology, June, 2013
Type: Times New Roman
Font: 14 pt.
color: black ink on cream paper
number of pages: double sided  368
page size: 6.00 x 9.00-inches   to match BOE1Anthology
binding: soft cover spine
paper stock for pages: cream, wgt
outside cover stock: 90# weight
The 5 x 5.5 photo image is the "Great Nebula in Carina", very colorful, many, many stars large and small, black sky with a blue haze throughout that matches the book's bright blue background color. We converted the green in the photo to yellow— for the look—so many of the stars are yellow with a green aura; some small stars are white, light blue and pink. The clouds are red; the sky is royal blue and black
Page set-up:
Margins:  .05 top/outside/bottom/inside from .05 spine/mirror margins
Text justification:  fully justified
Footer:  page number  14 pt/italics/centered————–
Copies of Behind Our Eyes: A Second Look, edited by Kate Chamberlin,
ISBN 978-1490304472 are available through Amazon.com for $16.96 per soft cover book, Kindle, Nook, and from (Insert your name here) (your e-mail and/or website here, if you want people to contact you).
Back cover Review
Behind Our Eyes: A Second Look
What makes us different? What makes us the same? What do writers with disabilities think about?
They think and write about the same things as writers without disabilities. Kate Chamberlin, the editor
of Behind Our Eyes: A Second Look, has assembled a wonderful anthology of prose and poetry that captivates as well as instructs.
Here are stories about personal loss and personal triumph. New insights abound. All the emotions are represented, from fear and loss to blessings and joy. Almost every genre is represented from science fiction to delightful humor. We are treated to biographical sketches as well as fiction—tough reality as well as delightful whimsy.
Disability is not the center of the writing–it is the triumph that forms the beauty of this work. After all, where do images come from when you are blind?
What colors do you use? What sounds and rhythms and meters do you measure when you are deaf?
Images are not formed by the eyes and music is not held only by the sense of hearing…these images are built from all of our senses…these images emanate from our imagination and the center of our mind and being. And remarkably, these writers find the right images to share with us their pain and endurance.
We are all challenged. There are many challenges that are presented and met in these pages, but it is not the challenges that we remember–it is the indomitable pirit, the strength of the human will, the celebration of life. Although there is pain and bondage, it is the victory that touches us most. As Heather Herschap so elegantly states, "But God gives me a spirit that sets me free."
L. John Cieslinski, poet, playwrite, owner of Books, ETC.
78 W. Main ST.
Macedon NY 14502
585-474-4116
books_etc@yahoo.com
May, 2013
Behind Our Eyes, Inc, a 501C-3 nonprofit organization, offers accessible opportunities for writers with disabilities to share and discuss their work with fellow members, guest authors, and professionals in the publishing field via their e-mail list and teleconferences.