27 Mar 2014, 12:29pm
Uncategorized
by
kate
Comments Off

on www Ancestors
In response to a Wayne Writers' Guild prompt:
Ancestors, Acrostic
Ancestor
Named for his people
Elting Forsyth Deyo
Cousins abound
EEach one unique, yet
Shades of the fore-father's
Traits emerge
Over generations
Relatives have his
Smile.
Ancestors, nonet/acrostic
Ancestors may not be remembered;
Names are gone but not forgotten;
Cousins' traits carry the line;
Eyebrows arch at quick wit;
Smiles are similar;
Toenails curl  up;
Only hair
Recedes:
Shine!
Ancester, Nonet
Like the clock, my grandfather stood tall,
Or could it be that I was small?
Hair  so black, mustache so thick,
Then, he became so sick;
His back became bent,
His hair turned white;
Love won't die.
He's my
sire.
Old
Unknown
D-N-A
Family traits
All the same smiles
Many same odd habits
New aunts and uncles join us
Family chaos increases
Memories are made by families.
©by Kate Chamberlin, March 25, 2014
12 Mar 2014, 12:03pm
Uncategorized
by
kate
Comments Off

on Round Oak Table
Furnishing our new cottage
Once the new wood floor in the living area and the tile floor in the tub area were finished, we started moving our old furniture into our new cottage.
We started with several of our white, wrought iron spring chairs. In the old, shoe box shaped porch, the six matching chairs lined the walls on three sides. A step-table between two chairs on the east;  wrought iron nesting tables between the two chairs on the south; and a slat-table between the two on the west side. A low, square table for plants nestled into the south-west corner. Unfortunately, it gave the room a rather "nursing home" appearance that I wanted to avoid in our newly expanded cottage.
The openness of the room yelled to have a circular conversation area that would facilitate heat to circulate from the small gas fire-place in the south-east corner, as well as traffic flow to and from the tub room and the dining area. Our old rectangular and square tables were not conducive to the spaciousness I wanted to create.
We needed a round table. We found a brochure in our Post Office and read it carefully. We liked the idea of commissioning a local craftsman to make a round, oak table for us.
James Maddison came out to our home to find out exactly what we wanted. As we sat in our cottage and explained about thinking this area needed a four-foot diameter round table that was taller than a traditional coffee table. He agreed the proportions were compatible. One last request was that it had to be ready prior to the Cottage Blessing ceremony planned for early spring.
To our utter surprise, he phoned two weeks later to say he'd like to bring our table home. He said he'd noted how anxious we were to have our table in place before our gathering. It was (and is) a well-crafted, beautiful heirloom piece and perfect for the space. Of course, I insisted he sign this masterpiece.
We found a simple round, earth-tone color rug with a tasteful wreathe of stylized flowers in the center. The oak table, rug, fireplace, and comfy chairs coordinate well to create a welcoming spot for family and friends to come together any time of the year.
Thank you, James M. Maddison, Maddison Woodworking, 4075 Canandaigua Road, Walworth, NY 14568, 585-746-7814; FaceBook:  look for the, Red-headed woodpecker logo.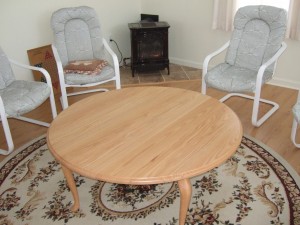 3 Mar 2014, 4:20pm
Uncategorized
by
kate
Comments Off

on Yarno, The Bull Frog
The illustrator of my children's book Green Trillium enjoys hiking, nature, and sketching. She often carries a camera to snap shots she might like to draw when she gets home.
On one trek, she saw a fat, comical bull frog in her pathway. She paused to photograph it. It hopped a little way on and she had to readjust her camera. It hopped on a bit farther. She kept after it until she'd snapped a photo of the now grumpy frog.
Jump to 2009 when she was drawing the illustrations for Green Trillium, a children's book that has lots of nature scenes, flora, and fauna. Mia couldn't resist putting the grumpy, though whimsical frog into one of the pictures.
Hop ahead to 2014 when I met Jeffrey Thomas Cook at a meeting of the Wayne Writer's Guild. Members meet twice a month to share what they're working on, network, and socialize. Jeff bought a copy of Behind Our Eyes: A Second Look,  an anthology of stories, poems, and essays by 65 writers with disabilities that I'd edited. When he came to my home to pick it up, we chatted and he mentioned that he was also a chainsaw artist.
A memory leapt into my mind of a chain sawn frog I'd found years ago. It would have been perfect in my Monet Garden; however, it cost $500. Rather more than I could afford at the time.
After hearing my tale of woe, Jeff said he could do it for $99. I thought about it and we e-mailed back and forth and even sent a digital of the bull frog in my book.
I am now the proud owner of Yarno,The Bull Frog, so named after Mia's husband. Jarno is actually the correct spelling  of this man from Finland, but I don't want to get in trouble with our Marines!
The solid oak sculpture will be kerplopped in a special spot near the water feature in my Monet Garden this spring.
Green Trillium
By Kate Chamberlin
Illustrated by Mia Surakka
ISBN: 9781426908750
Behind Our Eyes: A Second Look
Stories, Poems, and Essays by 65 writers with disabilities
Edited by Kate Chamberlin
ISBN 978-1490304472
NLS/BARD: DB 77772
Book Trailer:
http://www.youtube.com/watch?v=hk0uIaQTr24
Jeffrey Thomas Cook
Critters 3D –  Chainsaw Art / Wooden Toys / Lawn Creations / Frames / Multimedia Sculptures
585/794/0710
2 Mar 2014, 8:15am
Uncategorized
by
kate
Comments Off

on Writing Your Memoir
1 Mar 2014, 7:18am
Uncategorized
by
kate
Comments Off

on CROP Hunger Walk
Media Release – Community Event Ontario and Walworth
Event Date:Sunday, May 4, 2014
Submitted by Kate Chamberlin,315/986-1267
Crop Hunger Walk, May 4th
Individuals, organizations, and businesses in the Walworth and Ontario communities are invited to participate in the 2014 Crop Hunger Walk in Walworth on Sunday, May4th beginning at 1:00 PM.Registration is at the United Methodist Church starting at 12:30 PM
Walkers follow a two-mile route on sidewalks to Ginegaw Park and back to earn the money their sponsors' have pledged.
CROP Hunger Walks are ecumenical, interfaith, multi-cultural events. 25% of the money earned by the Walworth walkers will be returned to the Walworth Food Pantry and 25% of the money earned by the Ontario walkers will be returned to the Ontario Food Pantry by the Church World Service,Inc. Donations are tax-exempt under section 501(c)(3) of the U.S. Internal Revenue Code.
The 2014 Communities Responding to Overcoming Poverty (Crop) Hunger Walk is supported by the Walworth Council of Churches and Ontario Council of Churches.Walkers can find sponsor sign-up sheets at any of the churches. For more information, please contact: Amy Barber, 585-301-2852; Amybarber001@gmail.com.