16 Sep 2015, 3:27pm
Uncategorized
by
kate
Comments Off

on WWG new anthology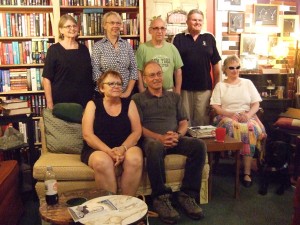 Wayne Writers Guild Publish Sixth Book Sent 9/9
By Beth Hoad
First organized on a dark and gloomy night in November 2002, Wayne Writers Guild is a group of published and unpublished local and area writers. For the past thirteen years, they have gathered to discuss and share their work twice a month at Books, Etc. in Macedon, NY hosted by owners John Cieslinski and Maryann Miller.
Between the covers rendered by Alex Darrow, WWG has just released their sixth in a series of books featuring a collection of literary endeavors from a dozen of the members. Editor C. A. (Anne) Stahr, a Human Resources Manager and Literacy Volunteer, said works were gathered from members in January with the completed volume released in July, 2015. The book is similar to their previous publications and is described as an anthology of poems, essays and stories written by the members.
WWG is a diverse of writers with varied interests. Judi Allen of Macedon, an office administrator in her former life, enjoys creating both prose and poetry while Merton Bartles, also a Macedon resident is a retired technical writer who draws on his military background and life experiences for his creative writing.
Kate Chamberlin of Walworth is a former school teacher with a unique approach to her writing since she lost her sight thirty years ago and is a published children's author, Anglican educator and free-lance writer/editor. L. John Ceislinski, Books, Etc. owner, retired from teaching in the Rochester area has written several theater pieces for his Flour Town Theater in Hilton.
Rand Darrow was a Fine Arts and Art teacher in Manchester-Shortsville School for 31 years and although deaf in one ear writes musicals and songs, sculpts and makes puppets. James Lake worked for Xerox for 16 years as a metal and plastic engraver and is an avid racecar enthusiast with a large collection of photos of the many races he has attended.
A Marion resident, blue collar poet C. A. (Chuck) Martin is the only remaining charter member of WWG who contributed works to all five previously published WWG books. While science writer-editor William Preston is a "technical" writer for the Department of Radiation Medicine, Loma Linda University Medical Center, his 30-year favorite pastime is writing poetry.
Previously published, former British citizen Alex S. Reid draws on his European past as inspiration for his essays. Also a published author and poet, retired teacher Sally Valentine won first prize in a Writer's Digest contest with There Are No Buffalo in Buffalo. The final contributor, poet A. Whitney said she often dreams out loud, and so she writes.
The book entitled, Looking Out From Within: Poems, essays, and stories from the Wayne Writers Guild, can be found at Books, Etc. in Macedon and online.
WWG meets at 7:30 pm every second and fourth Tuesday of the month in the cozy "back room" at Books, Etc. and welcomes new writers and guests to join their casual group.
2 Sep 2015, 10:03am
Uncategorized
by
kate
Comments Off

on Shakespeare In The Buff
BOE prompt: collaborative piece
Shakespeare In The Buff
By Kate Chamberlin and Donna Grahmann
"There is flattery in friendship." (Henry V).
They considered each other as friends and shared a love of reading recorded books from the National Library Service, NLS, yet, they'd never met in the flesh. As fellow authors in the same writing group, Donna's and Kate's friendship began in 2010. Throughout 2013, either Donna, as secretary, or Kate, as editor, reached for the phone to collaborate with each other on almost a daily basis and applaud, praise, or fret, about details of their writing group's soon to be published anthology, Behind Our Eyes: A Second Look.
"This is a way to kill a wife with kindness." (The Taming of the Shrew).
"Yes," David echoed back, as Donna presented him with their opportunity to fly to Colorado and meet Martha Harmon Pardee, her favorite talking book narrator of over 2,888 books for NLS.
Martha, her e-friend of several years, had planned to meet with them for a brunch at The Buff Restaurant, prior to Martha's 12:15 PM curtain call for the Shakespeare play, "Henry V."
"I love you with so much of my heart that none is left to protest." (Much Ado About Nothing).
Credit card points for the flights, hotel points for the room, and discounted car rental fees, were instantly activated to lock down reservations, as Donna heard the yes reply. Like Tigger on too much caffeine, Donna bounced with joy to share their anniversary trip news with the Chamberlin's from up-state New York.
"Oh, Dear Gussie," said Kate. "We can't pass up the opportunity to meet each other and Martha Harmon Pardee, our favorite talking book narrator, too!"
"Woo-hoo, pack your bags and let's go to Boulder," exclaimed Donna.
"Men of few words are the best men." (Henry V).
As a little girl, if Kate felt sad, happy, or hurt, her Pappy, a Rutgers University Shakespearian educator, would have a quote from Shakespeare to fit the situation. Though, reading the manuscripts in black and white print or listening to the recordings put her to sleep, Kate wondered if she'd been able to read the original 1620 Shakespeare folios, printed in different colored inks for each character's lines, would the plays have come alive for her?
"To be, or not to be: that is the question." (Hamlet).
Kate and her husband, Dave, began their trek from Rochester, NY to Boulder, Colorado with a very early morning flight, yet, due to delays, missed connections, and a variety of other snafus, didn't arrive at the new Hyatt Hotel until late evening.
"All hell shall stir for this." (Henry V).
"But, I just showered and am ready for bed," said David as Donna hung up from Kate's late arrival call.
"It's okay, babe, I won't be too long. You can meet them tomorrow morning."
Rounding the hallway corner in the Hyatt-Boulder hotel, Cruiser guided Donna to the elevator door. As Donna searched the walls to locate the elusive buttons, she heard something familiar. With excitement, she held her breath as she waited to meet the friends behind the voices that she'd known for five years. Dave, Kate, and her guide dog, Tulip Grace, turned the corner and then, the tail-wags and greetings began. After Dave aided with the elusive button location on the elevator's door frame, Donna pushed the down button and reminded herself to trust her dog. The party glided down and stepped out into the hotel lounge.
"If music be the food of love, play on…" (Twelfth Night).
Steam rose from the morning's first cups of coffee, as Dave, Kate, and Tulip Grace, met David in the hotel's breakfast nook.
"Today's the day! I'm so excited that we finally get to meet Martha," said Donna, as she savored the coffee's aroma.
"Hold that thought. You may think different, once we go hiking in the mountains," chuckled David.
"I count myself in nothing else so happy, as in a soul remembering my good friends." (Richard II).
"Eat in The Buff ? I dare you," said David, as Donna, Kate, and Dave, awaited Martha's arrival in front of the restaurant.
"Donna, I'm here," said Martha, as they hugged like two lost friends.
"Wow, it's so nice to finally meet you in person. This is my husband David, and my dear friends, Kate and Dave Chamberlin."
"Table for Chamberlin," announced the hostess, as the party of five navigated through the crowd to their table.
As Martha began to read the menu out loud, Donna grinned in thought, "Hmmm, should I ask her to read it as Roarke, the Irish billionaire from the (In Death) series?"
Their August 9, 2015 Sunday brunch in The Buff restaurant with Martha, started the friends Shakespeare experience with plenty of lively conversation and delicious food in a friendly ambiance and clear Colorado air.
After two hours of wonderful conversation and food, Martha's 12:15 curtain call beckoned and brunch ended in a flurry of hugs.
"After my costume change, I'll meet y'all out front," said Martha, with another hug goodbye to Donna and Kate.
Minutes later, Donna reached for her iPhone, as Siri announced two emails from Martha that warned of two events in "Henry V" that might disturb Cruiser and Tulip Grace.
"But, for my own part, it was Greek to me." (Julius Caesar).
Navigating through the sold out crowd in the Colorado University theater, the four friends found their front row seats. With the stage only 15 feet away, Kate and Donna wrestled with not trying the Braille method to explore the actor's costumes as they stood in front of them to say their lines, before continuing onto the stage. When the gift from the King of France to Henry V was opened, Kate thought that Tulip Grace might try to get some of the tennis balls, but she was well behaved. Donna flinched during the loud cannon fire, but Cruiser remained asleep, until all the tennis balls bounced across the stage. With no escaping tennis balls to fetch, Cruiser's head lowered with a resounding sigh.
Among the various roles Martha played in "Henry V" were a soldier's bawdy wife and Katharine's gentle woman's hand-maid, Alice. Laughter swelled throughout the audience, as Alice tried to teach French Katharine the English names of body parts.
"Boy, that fight scene was loud; it was hard to sleep through or follow," David said with a cocked eyebrow and grin, while they waited for Martha after the show.
Beaming with smiles, Donna and Kate posed with Martha for several photos, which they followed up with a final round of goodbye hugs before the next show.
"Break a leg!" said Kate, as Martha turned to leave.
"Absolutely, and thank you!" replied Martha.
"A horse! A horse! My kingdom for a horse!" (King Richard III).
"Sorry, baby, but one Shakespeare play is enough for me. I'll go hiking while you, Kate, and Dave, go to the next show. Afterwards, we can all meet for supper."
Cruiser and Donna followed Kate, Tulip Grace, and Dave through the sidewalk maze and reached the CU Amphitheater to attend Much Ado About Nothing.
Donna, with Cruiser tucked under her legs, sat in an aisle seat. Tulip tucked in under Kate's seat and Dave narrated the action and facial expressions from the seat left of Kate.
"In my mind's eye." (Hamlet).
As with all Shakespeare plays, scenery is kept to a minimum and presented "in the round, while actors invite the audience to fill-in with their own imaginations. At times, unwitting audience members were brought into the action and dialogue. As was the case when an actor, during "Much Ado," stopped next to Donna and Kate to indicate they were virtuous women".
"Thank you, my lord," hung on the tip of Donna's tongue, as she and Kate smiled at the actor.
"The deep of night is crept upon our talk and nature must obey necessity." (Julius Caesar).
Drink glasses clinked around the BJ's Brewhouse table in cheers, as the four toasted their friendship and reminisced about their quick, but awesome, Colorado anniversary adventure. Meeting each other for the first time and sharing live Shakespeare performances with Martha, a consummate professional, will be their shared and treasured memory.
"Good Night, Good night! Parting is such sweet sorrow, that I shall say good night till it be morrow." (Romeo and Juliet).
Up-date Note: as of September, 2015, Martha has recorderd 3127 books.