27 Apr 2017, 4:37am
Uncategorized
by
kate
Comments Off

on Hey! You Got Eyeballs In There?" bkIII: 36. The Baby Can't Go Home
Hey! You Got Eyeballs In There?
By Kate Chamberlin
As Grace grows up, some of her stories are happy, some trying, some enlightening, and a few themes are sad, but, they're all the warp and woof of what goes into the tapestry of life we call Family. The daily living skills and techniques demonstrated by the fictional characters in these stories are valid, tried and true.
Book III:  Wife and Mother
#33. The Wedding
#34. The Honeymoon: Lake Pocotopaug
#35. The Honeymoon: Freedom Trail
#36. The Baby Can't Go Home
"There's no way you can take your new-born home from the hospital," the large, greying Social Worker in the delivery suite told Grace.
Grace couldn't believe her ears. Didn't the records show that during her pregnancy, she and her sighted husband, Ken, had taken parenting classes, natural childbirth classes, toured the hospital, and been well prepared for the birth of their first baby, William?
"I had baby-sat nieces and nephews without a problem, Grace said around the brick in her throat, trying to stay calm despite the tears stinging her eyes. "My Mother and I have had many conversations about childcare. I am healthy. My baby is healthy. Why, on earth, can't I take my baby home?"
"Well, you're blind. You can't see if the baby has a nose bleed," the SW said in her hoity-toity voice, wielding her clip board like a shield. "How would you ever know if he has a diaper rash or Thrush? How could you ever measure and mix the baby's formula and pour it into the bottle?"
The petite delivery nurse, who spoke softly with a Texas drawl,  brought William to Grace and waited until he latched on properly to her breast for lunch.
"Here's the answer to how I can feed my baby," Grace said fondling his fuzzy, perfect little round head, feeling the healthy pulse of his fontanel.
The SW sniffed and huffed out of the room, holding her clipboard against her ample chest. Grace knew that although she'd won that skirmish, there would be more to come in the war.
"Ken,  they won't let us bring William home," Grace groaned when he came in that evening. "Before now, I've never felt like ripping off someone's face!"
"Grace," he said  kissing her tear stained cheeks and her trembling lips. He knew that she would not want him to fight her battle, so he said, "you're a teacher. This may be the most important lesson you'll ever teach"
The next morning, the SW came back to grill Grace on how she would take care of an infant.
"How will you change the baby's diaper?" she asked, so, Grace went over to the maternity suite's bassinet where William was waking up.
"I learned from changing my nephew's diapers that you always keep everything covered," Grace said as she demonstrated her technique.  "Then, with a moist baby wipe, I make a "Y" patterned swipe to make sure whatever smells so bad gets cleaned off. I have the clean, disposable  diaper open and ready to "lift butt, insert diaper and tab shut" in one fell swoop.  The lidded pail for dirty diapers is next to the bassinet and all my supplies are within my easy reach, but out of William's little hands."
Grace then wrapped William in a soft receiving blanket by lying him on it with his head on the top corner, bringing up the bottom corner to cover his legs; crossing the right corner over his body, snuggling his arms underneath it; bringing the left corner over the right; and snugging the Bottom corner over both the right and left edges. Grace picked William up, neatly bundled into his blanket, being careful to support his head with her hand.
As Grace nursed her sweet William, the SW asked, "How will you give the baby a bath?"
" Our shower head is on a six-foot hose. I'll put the shower head on the floor of the tub," Grace said. "Then place a hand towel on the bottom and wet it with warm water – keeping the shower running. After William is stripped lying on a dry towel on the floor next to the tub, I'll lift him into the tub and lay him face up on the warm towel. This leaves one hand to hold the shower head and one hand to roam around his body to guide the water stream. My nephew loved the gently tickling of the warm shower before and after I lathered him with a sponge loaded with gentle body wash lotion.
"When we're finished, I'll open the dry towel and hold it under each of my arms across my chest; lift William up and place him against me; bring the other end of the towel around him, and, voila, one baby washed and wrapped in a warm towel ready to be dried and dressed."
The SW wrote something down on her clipboard as Grace moved William to her shoulder to pat his back. William produced a gentlemanly burp and Grace laid him on his side in the bassinet. With his dry diaper, full belly, and a warm bed, William went right to sleep without a fuss.
The petite training nurse put her hand on Grace's shoulder and said, "You did really well. Don't you just love the baby powder scent of a new-born?" But, the SW didn't say a word as she huffed out of the room.
When Ken came to visit Grace and William that evening, Grace said, "I don't think the SW was impressed this morning."
Ken kissed her and said,"You're a great teacher. You'll win her over yet."
26 Apr 2017, 7:49am
Uncategorized
by
kate
Comments Off

on "Hey! You Got Eyeballs In There?"
Hey! You Got Eyeballs In There?
By Kate Chamberlin
As Grace grows up, some of her stories are happy, some trying, some enlightening, and a few themes are sad, but, they're all the warp and woof of what goes into the tapestry of life we call Family. The daily living skills and techniques demonstrated by the fictional characters in these stories are valid, tried and true.
Book III:  Wife and Mother
#33. The Wedding
#34. The Honeymoon: Lake Pocotopaug
#35. The Honeymoon: Freedom Trail
The Boston Park Plaza Hotel, located on a triangle block instead of a square block, created a puzzle for Crackers. Ken and Grace visited a small ice cream shoppe each afternoon, which was easy for her to find. From there, though, she'd confuse the side door with the main door, but, once in the building, she could get Grace to the bank of elevators.
During breakfast one morning, Ken said, "Let's take the Freedom Trail this morning."
"I like to walk, but what is the Freedom Trail?" Grace said.
"Ken, holding a brochure from the hotel's desk, read, "'…It is a walking tour of special historic sights…' It looks like we can start anywhere, but we're near the Boston Commons, so, Let's start there."
Later, they stood on a wide, red line painted on the sidewalk. They were to follow it to each site.
"Crackers, forward," Grace told her guide dog.
It took Crackers about 5 minutes to figure out all she had to do was "walk the red line"!   "There's no way we're going to be able to visit all 17 of these sites," Ken said perusing the brochure. "How about starting with Old North Church?"
"Isn't that the church known for 'one if by land, two if by sea' in Longfellow's poem The Midnight Ride of Paul Revere?" Grace asked. "I wonder if they'll let us climb the steeple."
"Probably not," Ken said. Still reading from the brochure, "'…Christ Church in the City of Boston, also known as Old North Church, is the oldest standing church building in Boston, having first opened its doors …in 1723. Its 191 foot steeple is the tallest in Boston …'
"Grace, we'd have to climb a lot of stairs and then a ladder to get up there. The thing has been blown over twice by hurricanes. I doubt we'll be climbing the steeple today, my Love."
Once in the quiet wooden pew-box, they sat thinking of the famous and not-so-famous Episcopalians who had Blessed this venerable old church through the American Revolution up to today.
Grace took in the smell of spent insence, melted candle wax, dusty and dried wood. She could imagine how the wet woolen clothing would reak during the winter months, not to mention stuff brought in on their boots from the dirt roadway and horses. She knew Crackers would love it!
As Grace reached for the latch on the small gate at the end of the pew-box, Ken whispered, "Remember, there's a step down after you get the gate opened."
"Crackers, forward," Grace said when they were back on the red line.  "We were in the old church quite a while. It was so peaceful and cool. What's next, Mr. Tour Guide?"
"USS Constitution," Ken announced and read:   '…Launched in Boston in 1797, the oldest commissioned warship afloat earned her nickname "Old Ironsides" during the War of 1812 when she fought the British frigate HMS Guerriere…'
"It says here that the copper fastenings were made by Paul Revere."
The ship wasn't open for tours by the time they'd walked there, but the interactive USS Constitution Museum was open. They Swung in a hammock, join a mess  (meal), and furl a sail, as they learned what it was like to be a crew member of a war ship over 200 years ago.
"Life was hard back in the day," Grace said lining Crackers up on the red Freedom Trail again. "I suppose they had a cat or two on board, but a dog would never make it through the noise and rough waters."
"Are you tired or shall we do one more site?" Ken asked.
"I think we have time and energy for one more piece of history," Grace said.
"Okay, onward to Bunker Hill," Ken said. "It's on our way back to the hotel anyway."
"Okay." Grace agreed. "Wasn't it in  the battle of Bunker Hill that, "don't fire until you see the whites of their eyes!" was said by Colonel William Prescott?"
"Yes," Ken said. "'…It came to immortalize the determination of the ill-equipped Colonists. While technically a British victory, the Battle of Bunker Hill proved that Colonial forces could fight effectively against the British…'"
"You're reading that!" Grace laughed.
"'…The Battle of Bunker Hill on June 17, 1775," Ken continued reading, " was the first major battle of the Revolutionary War and predicted the character and outcome of the rest of the war…'"
At the top of the hill, the 221 foot granite obelisk stood across from the BUNKER HILL MUSEUM.
Ken was describing the dioramas and murals in the museum to Grace, when a guard came up to them.
"Do you want to feel a few of the artifacts from the battle itself?" she asked.
One by one, objects were put into Grace's hands, as the guard described what each was: a pockmarked cannonball; a snare drum; a sword; a stiff masonic apron belonging to revolutionary leader Dr. Joseph Warren, who perished in the fight; and a rusty trowel used by the Marquis de Lafayette in the groundbreaking for the monument in 1875, on the 50th anniversary of the battle.
Grace and Ken thanked her for her kindness and strolled out into the sunshine, hand in hand.
The hotel had a fitness room and spa.
"I think I've had enough of a fitness workout today, but I sure could use a soak in a hot tub," Grace commented.
"Right this way, Ma'am," Ken said, leading her into the sunken tub in their suite's spacious bathroom. "It looks like this tub even has jets."
Wrapped in the thick, plush hotel robes, Ken said, "I'm famished. Let's order from room service." So, they did.
After eating their meal and putting the tray out in the hallway, the newlyweds thankfully sank onto the fresh sheets on their soft, king-sized bed.
20 Apr 2017, 4:31am
Uncategorized
by
kate
Comments Off

on "…Eyeballs…" Book III: 34. The Honeymoon, Lake Pocotopaug
Hey! You Got Eyeballs In There?
By Kate Chamberlin
As Grace grows up, some of her stories are happy, some trying, some enlightening, and a few themes are sad, but, they're all the warp and woof of what goes into the tapestry of life we call Family. The daily living skills and techniques demonstrated by the fictional characters in these stories are valid, tried and true.
Book III:  Wife and Mother
#33. The Wedding
#34. The Honeymoon: Lake Pocotopaug
"Oh, no," Grace groaned, as she heard voices from the docks near the small cottage on Lake Pocotopaug where they were going to start their honeymoon. "I thought all of Mother's cousins and friends would be gone by the time we got here."
The lake friends warmly welcomed Ken and Grace.
"We didn't know you'd be coming," Mal said.
"Why didn't your Mother tell us?" Lila asked
Eventually, it came out that Ken and Grace were married.
"Really," Percy said. "When did you kids tie the knot?"
"Well, actually," Ken stalled.
"We were married this afternoon," Grace finished for him.
They had to endure several minutes of teasing about this being their secret honeymoon spot. Within 20-minutes, the other families had cleared out and the other four cottages were empty.
"Alone, at last," Ken said wolfishly, wrapping his arms around Grace in a bear hug and  nibbling her neck.
The first three days at the Lake were perfect for lounging on the dock, leisure rows around the lake, cooking out and touring the small shops in town.
"Oh, this feels weird," Grace said, standing in the middle of the Comstock Bridge.
"The Salmon State forest," Ken began to read from the brochure in his most docent-like voice."… features Comstock's Bridge, the only remaining covered bridge in eastern Connecticut, which spans the Salmon River near our cottage in East Hampton."
In the cool, morning mist, the ducks on their dock would wake them up, demanding to be fed with their loud quacks, squabbling, and splashes. The ducks weren't intimidated when Grace and Ken walked onto the dock in their bare feet and matching blue striped jammies, instead, the boldest of the quackers came up to them looking for pieces of bread.
"This reminds me of when I was a little girl and we sat near the family camp's duck pond," Grace said, holding her palm out with the bread for the ducks. "The counselors would tell us nature stories that made us laugh and sometimes, cry."
At dusk, each resident put luminaries on the end of their dock.
"The small, brown paper bags are oiled," Ken explained As they sat on their own dock. "Then, they are weighted down with sand in the bottom of the bag. A small candle is placed in the sand and lit.
"The surface of the calm lake mirrors the lights, appearing to deepen the depth of the water, the depth of romance, and the depth of my love for you," Ken softly said, kissing her neck.
Early on their fourth day at the cottage, still snuggled in bed with Ken, Grace said, "Listen to that thunder rumble. It reminds me of the first morning I main-streamed into the public high school."
"Yes, I remember seeing you for the first time in the lunch line," Ken smiled.
"Oh don't remind me of that, thank you very much!" Grace laughed. "Main-streaming turned out to be the right move after all."
The thunder that shook the little cottage moved on, but, the low-slung clouds persisted and it rained off and on.
"Well, we planned on going to Boston today, anyway," Ken said. "What about starting the second phase of our honeymoon sooner rather than later?"
"Boston Park Plaza, here we come," Grace said giving Ken a bear hug.
13 Apr 2017, 5:12am
Uncategorized
by
kate
Comments Off

on "…Eyeballs…" Book III: 33. The Wedding
Hey! You Got Eyeballs In There?
By Kate Chamberlin
As Grace grows up, some of her stories are happy, some trying, some enlightening, and a few themes are sad, but, they're all the warp and woof of what goes into the tapestry of life we call Family. The daily living skills demonstrated by the fictional characters in these stories are valid, tried, and true.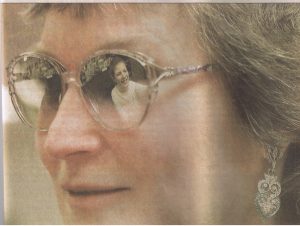 Blind teacher Kate Chamberlin photographed by Kevin Rivoli for "Blind Ambition" written by Michele Locastro Rivoli, Democrat and Chronicle Newspaper, December 30, 1998.
kathryngc1@verizon.net
"Dream it. Write it. Read it.
Copyright © July 20, 2016, January, 2017 All Rights Reserved
by Kate Chamberlin
Walworth, NY 14568

Hey! You Got Eyeballs In There?
By Kate Chamberlin
Book III: Wife and Mother
#33. The Wedding
Grace dried the dishes her Mother washed. An old ritual that both comforted and got the job done. Grace's mind wandered down to her parent's den, where Ken sat with her father.
"Well, Sir," Ken started, cleared his throat, and began again. "I've loved Grace for a long time and, I know, she loves me. We'd like your Blessing for us to get married."
Grace's Father continued to watch Lawrence Welk on TV, as if he hadn't heard Ken.
Eventually, he said, "Yes, Son," I know my daughter has strong feelings for you. But, as to marrying you? That's her decision." He turned to smile at Ken. I'll go upstairs and send her down here. You ask her."
Grace felt her Father take the dish towel from her.
"Your young man has something to say to you," he said with a smile in his voice. "I'll finish up here."
Grace knew what was coming, but, it surprised her when Ken knelt on one knee in front of her. He took her hand and said, "Will you marry me."
Grace put her hands on each side of his face and brought his lips to her lips. When the kiss ended, she said, "Yes."
They walked hand-in-hand upstairs to show her parents the lovely solitaire diamond in a Tiffany setting mounted on an ornate white-gold band. Grace could feel the tears of happiness on her Mother's cheeks when they hugged.
Four years had passed to get them to this day. During college, Ken and Grace, Joe and Edie kept in close contact through social media and get-togethers as often as their schedules allowed.
Ken graduated from the Eastman School of Music and stayed on to become a Professor, joined the local orchestra of professional musicians, and helped the local high school with their musicals.
Grace earned a Bachelor of Science and Master of Arts to become a high school Natural Sciences teacher, volunteer "Pink Lady" in their local hospital, and fund raiser for her guide dog's training center.
Edie realized her dream of marrying Joe and owning and operating a shop of fine arts and crafts near where she and Joe lived. She accepted quality consignments and made many of the items she sold.
Joe completed his degree in Forestry Management, landing a job with a national energy company. He surveyed areas where new lines would be installed, insured compliance with environmental regulations, and sometimes flew a small helicopter to inspect the lines.
The August day of Grace's and Ken's wedding dawned hot and humid.
"Mother," Grace said slipping on her wedding gown. "I'm so glad we made Edie's and my dress out of cool crepe. The scoop neckline and long, lace flutter sleeves won't be too hot."
"The lace mantilla with the edge Grandma Kate tatted looks wonderful," her Mother said. "And Edie's salmon colored bride's maid dress fits her to a T."
"Thank you for spending so much time making our dresses," Edie said. "The color of these gladiolas are a perfect match."
When Grace stood at the back of the little church between her Father and Crackers, he whispered, "Joe escorted Mother to her pew and went to stand with Sandy and Ken at the steps to the altar. Edie had just arrived and turned to smile at you. Sandy is looking back at you. I hope he behaves himself."
Ken's best man, Sandy, whispered to him, "Wow. Who'd a thought my sis and that mop on four legs could clean up so nicely!"
Ken turned to see that Grace was, indeed, a radiant bride with a well-groomed Golden by her side. Crackers' harness had a white, silk rose corsage on it.
In the middle of the service, Ken said quietly into Grace's ear, "A fly landed on Fr. Bollinger's nose and he didn't budge. I feel like reaching up to swat it!"
Grace almost laughed, imagining Fr. Bollinger's surprise if Ken did swat the fly.
It seemed to take forever, but, eventually, Fr. Bollenger said, "You are now husband and wife. Let no man put asunder what God has joined."
Ken and Grace went from pew to pew, thanking everyone for coming and inviting them to come to the cake and champagne reception.
12 Apr 2017, 4:48pm
Uncategorized
by
kate
Comments Off

on "…Eyeballs…" Book II" 32. Senior Class Trip
#32. Senior Class Trip
One day the next week after school, they were again in their favorite booth at Family Ties Restaurant. The waitress brought them their sodas and stuffed potato skins.
"Our Class Advisor said we'd have free time between our group tour of the Smithsonian Institute's Space Museum and dinner at the Watergate Hotel before the play "Hair Spray" at the Kennedy Center to visit whatever we'd choose," Edie said. "Any suggestions?"
"I'd like to see the Yoshino cherry trees that Japan gave the United States," said Joe, the aspiring Forrester. "They're dying out, but, they used cuttings from the original trees to start saplings."
"I've read that the organ in the cathedral is really awesome," said Ken, the musician. "I doubt they'd let me play it, but maybe we'll hit a concert or something."
"I wouldn't mind visiting the National Cathedral," Grace said. "Helen Keller's sarcophagus is there."
"I wonder if I could get my hands on a gargoyle?" said Edie, the aspiring artist. "I guess it's the cathedral., Maybe, if we take a taxi, we could drive passed the cherry trees on our way to the Kennedy Center."
The day hadn't even dawned yet when the four friends with their classmates and advisors boarded the Greyhound Bus waiting for them in the school parking lot. Most of the students went right back to sleep and awoke hours later to see the tall buildings of our nations' capitol, Washington, D.C.
After the group tour of the Smithsonian Institute's Space Museum, the four teens and Crackers stood at the curb and tried to hail a taxi. No one would stop for them.
"Aren't you just supposed to raise your arm?" Joe asked
"Well, that's what I thought," Ken said.
"Let a lady try," Edie said with a twinkle in her eye. A taxi stopped right away.
The driver took one look at Crackers and repeatedly said in broken English, "No dog! No dog!" He drove off, leaving the astonished teens wondering what that was all about.
A Smithsonian's Security guard, who had witnessed the fiasco, jotted down the taxi's license plate and told them that what the taxi driver had done was illegal.
The guard watched them hail another taxi. The driver saw the guard watching and begrudgingly let Ken in the front seat so the other three could sit in the back with Crackers on the floor.
The driver dropped them off at Massachusetts and Wisconsin Avenues; right in front of The Cathedral Church of St. Peter and St. Paul.
Joe paid the fare that was shown on the meter, but, as he walked away, the taxi driver yelled at him, "Don't you country bumpkins know you're supposed to gimme a big tip?"  Joe hurried his step toward the group.
They stood at the back of the large tour group. The tour guide was excellent. Her voice projected to everyone in precise diction and grammar as she described each feature of the large organ that loomed in front of them.
"Do you want to feel it?" an unfamiliar man's voice whispered into Grace's right ear.
Adrenalin, like hot lava, crashed around in Grace's body. She reached for Cracker's harness preparing to bolt to the left to get away from the creep.
"Grace," Edie's familiar voice said, "let's go with this docent, instead of staying with the big group."
Grace relaxed with relief and almost laughed out loud at her own foolishness. The new docent meant the pipe organ.
"Won't I get into trouble, if I start touching things in a museum like this?"  Grace asked, picking up Cracker's harness again.
"No, Miss," the docent said. "You and your guide dog are special guests and we have many things for you to experience by touching. Please, come this way to the elevator."
As Grace stood in a display and eagerly explored the nooks and crannies of the sandstone models used to make the gargoyles and grotesques that adorn the top of the massive seven story stone cathedral, the docent passed around pieces of the statues to Edie, Joe, and Ken.
"Can you find the drain pipe that distinguishes the gargoyle from the grotesque?" Edie asked Grace, wishing she could get in the display, too.
In another part of the cathedral, Grace looped Crackers' long leash over her arm as she stood on a chair to stretch up to feel the intricately carved wooden panels behind an altar.
"The wood is so beautifully grained," Joe said, wishing he could run his hands over the panels, too.
The docent told Grace to go passed the fencing to stroke the Canterbury Pulpit from which so many famous speeches and sermons had been given.
When Grace got down on all fours to feel a tapestry runner, Crackers put her forelegs on the floor with her but in the air, furiously wagging her tail and licked Grace's face. Crackers thought it was finally time to play!
They all had a good laugh at that.
"Oh, Crackers," Grace said. "You silly puppy. It's hard to be good for so long, isn't it?"
She gave Crackers a hug. Then, they all rode the elevator down into the lower catacombs.
Grace gingerly traced the edge of Helen Keller's sarcophagus.
"Look," Grace said, "this braille plaque commemorates her life and work."
"Being so far down in the bowels of this place," Joe said, "makes me nervous."
Crackers was nervous, too. She was subdued and tried to get Grace to go toward every exit she found.
The docent took them up to the loft where the organist would sit with a small choir.
"This is awesome," Ken said. "The ranks of keyboards are fantastic. There are so many pipes."
"There's just enough time to get down to the main floor for a performance by a Boys' Choir from North Carolina. Shall we go?"
Of course, Ken wanted to stay, but came along with the others.
During one of the organ's crescendos Edie said in a loud whisper, "I sure hope those big stones in the arches don't vibrate loose or any of the flying buttresses take off."
Out in front of the cathedral, it took them four tries to get a taxi to take them to the Jefferson  Memorial.
"Oh, Grace," Edie said as they stood near the Jefferson Memorial. "The cherry trees are in full bloom. Can you smell them?"
"Yes," Grace said. "Are they planted in a design?"
"The cherry trees encircle the Tidal Basin near the Jefferson Memorial," Ken said to described the scene for Grace. "They also line the grounds of the Washington Monument."
"They were given to us by Japan as a token of friendship in 1912," Joe said. "Other trees have been added over the years to make a truly splendid sight."
Their taxi dropped them off in front of the Watergate Hotel.
"Perfect timing," Ken said. "Our advisor is just starting to count who's here and who's not."
After the play at the Kennedy Center, on the bus, Ken whispered to Grace, "I think you have to be blind to get the special tour you had," Ken said, as he laced his fingers with hers. "You and Crackers make a very special team."
Crackers nudged Ken's knee, as if to say, Fella, you're a part of this team, too. Then, she curled up at their feet and slept until the bus was once again in the school's parking lot.
6 Apr 2017, 9:25am
Uncategorized
by
kate
Comments Off

on "…Eyeballs…" Book II: 31. A Walk Through History
Hey! You Got Eyeballs In There?
By Kate Chamberlin
As Grace grows up, some of her stories are happy, some trying, some enlightening, and a few themes are sad, but, they're all the warp and woof of what goes into the tapestry of life we call Family. The daily living skills and techniques demonstrated by the fictional characters in these stories are valid, tried and true.
Book II:  The Teenagers
#10. Bad News
#11.  Grace's Day One
#12 Knight With Shining Flatware
#13. The Locker Fiasco
#14. Lost In Thought
#15. The Musician
#16. Day Two And Beyond
#17. First Date
#18. The Zipper Creep
#19. Making Up
#20. Mall Cruising
#21. And More Questions
#22. Homecoming Dance
#23. Loyalties
#24. Sea Dragons
#25. Guide Dog Chronicles: Puppy Raisers
#26. Guide Dog Chronicles: The Training Center
#27. Guide Dog Chronicles: Grocery Shopping
Guide Dog Chronicles: Hit By A Car
            #29. Guide Dog Chronicles: Smells like A Church
#30. Ken's No Strings Attached
#31. A Walk through History
One afternoon, as Ken, Grace, Edie, and Joe were seated in the back booth at Family Ties Restaurant sipping sodas and munching on fries, Grace asked them if they'd ever been to Colonial Williamsburg in Virginia.
"No,"  Edie said. "I know it is very historic, but I've never been there. Why?"
"My Dad has a business trip to the area and offered to drop us off at The Williamsburg Lodge," Grace said. "We can walk to everything from there."
"Cool," Joe said, as he RAISED his eyebrows and winked at Edie. "I've heard there are lots of taverns and old inns we could explore."
"There used to be harpsichords imported from Europe back then," Ken added. "I wonder if they still have one stashed away in any of those big old houses."
Spring break finally arrived and the teens were on the wide porch of the Williamsburg Lodge, looking over the down-loaded map of the Historic Village.
"Breakfast should be first on our list," Edie, the ever practical one said.
"It looks like Chownings Tavern is near here," Ken said.
"Do they say what their specialty is?" Grace asked, as Crackers laid quietly at her feet.
"Bubble and Squeek, and Welsh rarbit, and a dessert," Joe read. "They're big on Root Beer here. Great for a hardy breakfast."
"We're here to try new things, so, I'm for the Bubble and Squeek thing," Grace laughed.
After their breakfast of eggs and potatoes for Grace and Ken; the cheese sauce over toast points for Edie and Joe, they again poured over the village map.
"The Prentis Store is on Colonial and Duke of Glouster Streets, near the Prentis House on Botetourt and Duke of Glouster Streets," Ken noticed.
"Oh, look. Right across the street from that," Edie exclaimed, "is the silver smith James Craig."
"I've heard of him," Joe said. "Maybe, we'll see some skilled artisans making watches or jewelry."
"It says in the brochure that Golden Ball in London is the trademark used by jewelers and goldsmiths," Ken read. "It says James Craig was a watch-maker and made a pair of earrings for George Washington's daughter."
"Grace," Edie said. "Let's get matching earrings as a souvenir of our trip."
"Edie, are your ears pierced, too?" Grace asked.
"Yes,"  Edie said.
Grace told Crackers "Forward." And they strolled down the wooden side-walk toward the silver smith's shop. The sidewalk felt like corduroy beneath Grace's feet. Crackers was busy looking right and left for anything that might harm Grace, as well as, going forward the way Grace had told her. When they crossed the unpaved street, Crackers was careful to guide Grace around the horse droppings.
At first, the teens were perplexed as they stood in front of the two doors  to the silver smith's building. They soon figured out that the door on the west went into the workshop and entered. Later, the girls went in the east door to purchase sparkly, silver earrings.
"I didn't realize it would take you two so long to choose earrings," Joe said, RAISING his eyebrows at Edie. "I'm starving. What are we near?" Edie rolled her eyes  at him and grinned.
"Looks like the King's Arms Tavern might be near enough to reach before you faint," Ken, the keeper of the map, teased.
Each time they passed a door, Crackers indicated it with a little nod of her head in its direction. When they came to a door that smelled like food, Grace said, "M-m-m, this smells like a restaurant. Is it the one we want?"
Once seated with Crackers safely tucked underneath the table, the "wench" brought their menus. She told them that the over-sized napkins were to be tucked into their shirt collar to protect their clothes.
"I feel really silly with this tucked into my shirt," Grace said.
"Well, join the club," Ken said. "We all look silly."
The Southern fare of Peanut soup, pecan pie, Veal chops, Cavalier's Lamb, Ginger ale or cider made it hard to choose.
As the wench served them, she chatted amiably about the history of the tavern, "It was owned by Mrs. Vobe, during a time when it was unusual for women to own property. She changed the name to Eagle Tavern   to make it more her own and began to serve real Southern food."
After lunch, they walked back toward the Guard House to the octagonal brick magazine.
"Look at those Muskets, munitions, swords, pikes, canteens and cooking utensils," Joe nearly hollered. "They are awesome."
"It feels cool in here and smells old," Grace said. "Are there any things I can feel or hold?"
The docent handed them wrought iron, wooden, and lead items used in the colonial days for fighting and daily living. They were so engrossed in exploring the relics, that they nearly missed their date at the Court House.
Crackers was more than happy to walk briskly along the board walk toward the Court House.
Ken and Joe were scheduled to be seated in the Jury Panel. Edie and Grace sat on a long, uncomfortable wooden bench, as the jury participated in the trial that actually took place in the Court Room centuries ago. Crackers was comfortable resting under the bench Grace sat on, even though, the floor was dusty, unfinished wood.
"Edie," Grace whispered, "I can feel there are no rugs on the floor, but, aren't there any drapes on the windows? It sounds so empty."
"It's like a big wooden box with these benches, a few desks and chairs up front," Edie said.
Although  Ken and Joe had only been on the jury during the long trial, not  convicted or even charged, Grace, Edie, Joe, and Ken took each other's pictures standing in the "Stocks" on the grass next to the Court House. They thought it would make a great FaceBook post.
"Well, I see we've saved the best for last," Ken said, pointing to the map. "Our next stop is the Bruton Parish Church."
"Something tells me that this is where we're going to find the harpsichord," Grace laughed.
"Close," Ken said, taking her hand. "Peter Pelham was the organist in that church and gave harpsichord lessons to the well-bred young ladies of the village."
As Edie and Joe described the things Crackers led Grace past, Ken was deep in conversation with one of the other docents.
"We have one more stop to make," Ken said with a big grin. "The piano forte and harpsichord are in the Governor's Palace. The docent is going to call ahead to let them know we're coming."
Once in the Governor's Palace, the docent led them right to the piano forte and asked, "So, who is the musician?"
All three friends pointed to Ken, who tried to hide his excitement.
"We have a few minutes before a large tour group comes in. Is there a tune you'd like me to play?" the docent asked.
"May I play it?"  Ken asked, twisting and untwisting his fingers. Permission was given and Ken played a beautiful Keyboard Sonata by Haydn.
Grace held her right hand out and told Crackers, "hup-up."  Crackers moved ahead so Grace's hand touched Ken's shoulder.
"You play so beautifully," she said. "The piano forte sounds a lot like our pianos today."
"Don't you wish you could play like that?" Edie whispered to Joe, but Joe was lost in the strains of the sonata.
Moving into a smaller room, the docent said, "We don't usually let anyone play this 18th Century harpsichord, but you were so eager and able to play the piano forte, I suppose there will be no holding you back. Be my guest."
Hesitantly, Ken sat down on the ancient stool in front of the small instrument that he'd wanted to play for a long time.
"The harpsichord," the docent said as Ken began to play a Prelude by J. S. Bach. "is a string instrument similar to the piano forte, but the strings are plucked by little hooks, rather than struck by leather covered hammers."
Ken lost himself in the thrill of performing on such an old and time-honored instrument. He came out of his heavenly reverie when Grace softly said, "Hello-o-o. Earth to Ken. We need to go. The tour group is almost on us."
They thanked the docent for the very special treat he'd given them and walked toward Shields Tavern for dinner.
Grace tucked Crackers under the table and ordered a green salad, remembering how one of the Heritage Lettuce Plants leaf she sampled at the Village Nursery tasted like vinegar, another like mint, still another like lemon and so many others, that the salad would not need any dressing.
"Oh, how weird," Joe said when Grace's salad arrived.
"Why?"  Grace asked. "What's so weird about different greens having different shapes and flavors?"
"First, put your hands down and don't touch it," Ken said, knowing Grace always explored everything with her hands. He began to describe what they could see and she could not. "There are a variety of leafy greens about six-inches tall sticking straight up out of a four-inch long toasted bread troth."
"It looks like someone stuck green leaves and stuff into a planter," Joe said, trying to be helpful.
"The dressing is squiggled in a zigzag pattern like a border on the plate with grape tomatoes plopped onto the dressing," Ken continued.
"I bet they did that so they wouldn't roll off," Edie blurted out.
"How am I supposed to eat this?"  Grace moaned.
"Knock it over!" Edie, Joe, and Ken said in unison. "And use a fork," they added. All four of them dissolved into laughter.
When Crackers heard feet shuffle and chairs scrape on the bare wooden floor, she got up and shook. She did a good job of keeping Grace on the path back to the Williamsburg Lodge. Just as they entered the parking lot, Grace's Dad drove in.
In no time, Crackers was curled up at Grace's feet fast asleep, making little puppy woofs and twitching her paws. She wasn't the only one who was dog tired. Within minutes of relaxing in the car, all but Grace's Dad were asleep, dreaming of more adventures to come.
(Music Source: Keyboard Sonata by Haydn  on the piano forte:
www.youtube …Joseph Haydn Piano Sonatas, Fortepiano after Schantz 1790 1. Son No.21 in D minor Hob XVI/2a: Moderato 0:00 2. Larghetto 3.
And Prelude by J. S. Bach on The harpsichord:
www.youtube.com/watch?v=iT29XpFEFH4